SugarBuzz Magazine Review 10-19-11 @ The Vu , Newhall Ca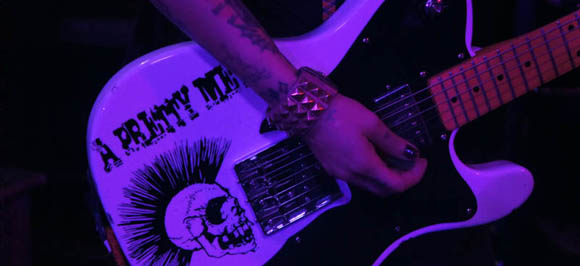 The VU, Newhall CA
By Lucky (SugarBuzz Hollywood)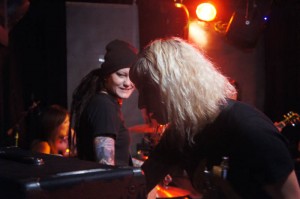 "All art is exorcism." – Otto Dix
"Art is the triumph over chaos." – Jon Cheever
"Chaos is a friend of mine." – Bob Dylan
Just a stone throw from the Newhall station hides a watering hole of some discretion that the average traveler may pass it by unnoticed. Hell, most of the locals are unaware, or choose to ignore. Only those blessed with the knowledge may seek it out and partake. Simply called The VU, I have heard rumors that it takes its name from its previous moniker, The Rendezvous. No matter as I arrived per invite to experience a phenomenon commonly known as a punk rock show.
A Pretty Mess was on the roster and I am in the process of persuading lead screamer Dmess to submit to an interview. What better way to gain trust and get an artist to open up than to get in their face and rock. I think it is working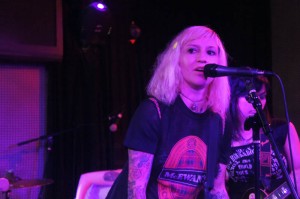 As the preceding acts tore it up, I got re-acquainted with my old friend Ron B. while playing one of those table top video games. (The kind you always see Lemmy playing at The Bow.) It was the calm before the storm.
A lively crowd, who actively partook in the antics of the opening acts, seemed strangely standoffish as A Pretty Mess took the stage. Was the atmospheric change due to the fact that A Pretty Mess were new in town, or worse yet, was the crowd foolish enough to assume that these four ladies were not up to snuff? Either way, they were about to get their eyes opened and their asses kicked.
A Pretty Mess unleashed a sonic boom entitled "Speed" that caused such a wave of sound that I swear I thought my hearing was done for. It was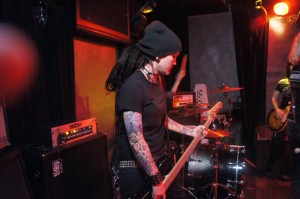 so loud I almost had to run and duck for cover. However, having spent time in the rock and roll front trenches, my senses made a speedy adjustment and I was good to go.
The unsuspecting bar dwellers looked as if they had been sucker punched. I could see in their eyes the realization that A Pretty Mess was a force to be reckoned with.
A few more crazed spectators stumbled to the front of the stage as Meghan shook ground with the opening bass lines from "Broken Promise". Dmess delivered genuine pain and anguish compiled with an "I'm not gonna take it anymore" mantra.
The optimistic escapism of "Lost City" hit hard as the band assumed a battle stance against the insanity that was eminent. Brother had riled up brother, and the numbers began to swell to riotous proportion. One such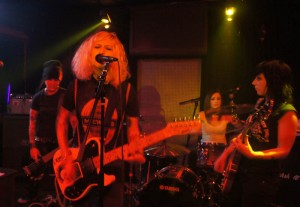 madman added fuel to the fire shouting for all fuckers to join the pit as "These girls are fucking killing it! Get your asses over here!" Many took note. Hard core slam commenced.
Mayhem reigned supreme as A Pretty Mess bombarded us with a dangerous rendition of "Empty Street". Pile-driver Mel came on like a wolf in sheep's clothing. Her ferocious fills surprised us as we were taken in by the demure demeanor. A heavy hitter that girl be.
Holding my own in the musical melee as A Pretty Mess brought on the explosive shrapnel of "2nd and Hill". Surrounded by a swirling mosh I managed to weave and bob, camera in hand with one eye on the band and one eye on impending doom. Dmess heralded hard knocks and sheer determination as Meghan dug in deep and went full steam ahead. Don't look back and never give in. Ever since I saw Meghan play bass for Texas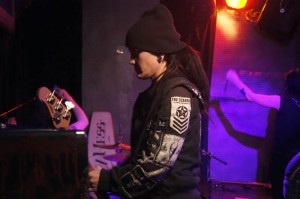 Terri's recent Los Angeles engagement, I have championed her abilities to all who dare listen. She kicks fucking ass!
 Controlled Chaos proved a façade on the onset of "Bloodstains". A Pretty Mess riled ruckus and fed the frenzy. The end result being Dmess completely soaked in a projectile wave of the barley malt. She was soaked, her guitar was soaked, and her effect pedals lie in a foamy pool. Taking it in stride, Dmess kept a lid on the volatile situation, chastising, but selecting her admonishments wisely.  For the rest of the show Dmess assumed a singers stance leaving sole guitar responsibilities in the capable hands of Erin. (Editor's note: I have heard that Erin has since left the group, leaving the rest of the band auditioning madly for a replacement before their show on Oct. 27.)
Accepting the insanity, not surrendering too, A Pretty Mess offered no quarter with "Rock and Roll Kills", an unrelenting slugfest with dual shouts from Dmess and Meghan. Not for the weak of heart, this pulverizing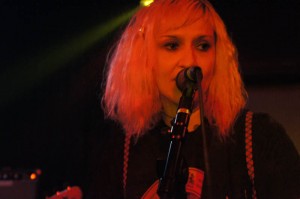 plummet is hard fucking core. No wonder it's a favorite of many of the following. It's one of my favorites as well.
The plunder continued and I opted for a side view as I had a sense that my luck as running out. Good timing indeed as bodies began landing right where I previously stood. The manic of "Far Behind" and the bombastic forget-me-not of "Despair" were bringing us home and leaving destruction in its wake.
Shell-shock took hold as the set came to an end, but the taunting pleas for "one more" enticed A Pretty Mess to give us "Weapons". Explosive and rambunctious, it hit right between the eyes. Still we were wanting more. Gluttons for punishment we be. Need a next time to get my fill. 
And that next time will be on October 27, 2011 when A Pretty Mess will wreak havoc at Mr. T's Highland Park Bowl with The Mau-Mau's. A Pretty Mess will also be tearing down The Redwood Bar and Grill with my brothers from Piss N' Blood on November 6th.  Don't fucking miss it!

*********************************